Home Instead

https://www.homeinstead.co.uk/calderdale/home-care-services/
At Home Instead we aim to change the way people are cared for in old age, keeping them independent at home, for as long as possible, in the place they love best.
At Home Instead, we work with our clients to provide flexible, personalised home care based on your specific requirements and when you need it. You'll get to stay in your community and live under your own roof, surrounded by your own things and continue to live by your own rules. Our home care services span home help, companionship, personal care and dementia care.
Our aim is to build lasting partnerships with local organisations and community groups that work with older people.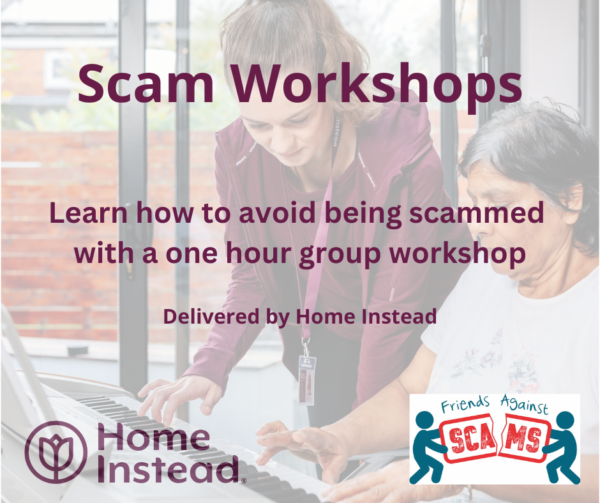 Find out more or to book contact:-
julie.ingham@homeinstead.co.uk
01422 292424
www.homeinstead.co.uk/calderdale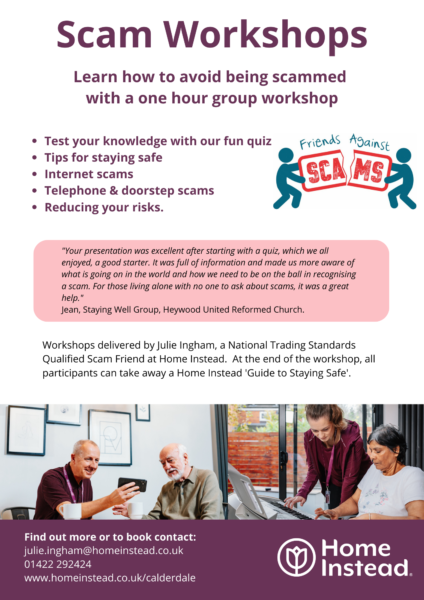 More Companionship Cafes planned with Morrisons
Following the success of our May Companionship Café with Morrisons Elland, a further four dates have been scheduled.

Our first events held on Tuesdays in May through to August in Morrisons in-store cafe have been well attended with people from Elland, Halifax and Brighouse enjoying some good conversation, bingo, and light-hearted quizzes, all in a friendly atmosphere with plenty of free tea, coffee and biscuits!

Staff from both Home Instead and Morrison's are on hand to welcome everyone and make them feel comfortable and we have been joined by local charities including the Staying Well Hub, Age UK and Calderdale Carer's Wellbeing Service.

Julie Ingham, Community Engagement Officer with Home Instead had this to say after the August event:

"We have received lots of positive comments about the café which has been launched as a partnership between Home Instead and Morrisons to help combat loneliness in older people, and so more dates have been announced to take us through Autumn and Winter."

"After the last two years of the pandemic, many older people have found the isolation very difficult to deal with and we want to play a part in helping them to get out and meet new people and forge new friendships."

The Companionship Café will be at 10am through to 11.30am every 2nd Tuesday in the month. Please come and join us.


If you would like to know if our Companionship Café is right for you or have any questions, do get in touch on 01422 292424.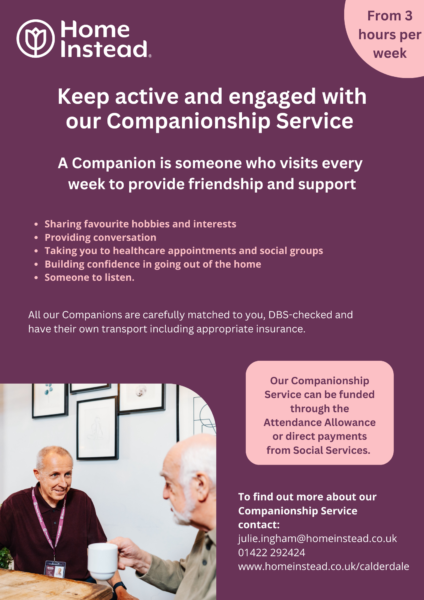 MAURICE JAGGER WORKING IN PARTNERSHIP WITH SUPPORT ORGANISATIONS TO PROMOTE THEIR SERVICES
A new initiative for 2022 has brought the MJC and Home Instead together to promote the important work being done to support the Elderly, Disabled and Vulnerable of Calderdale. For a small annual fee, we will commit to promote Companies on our Website, internally on our own media systems/notice boards and allowing access to the railings around the Centre to put up advertising banners. If any other support organisation is interested in being a Trusted Partner & Supplier please e mail via the Contact Page for more information.