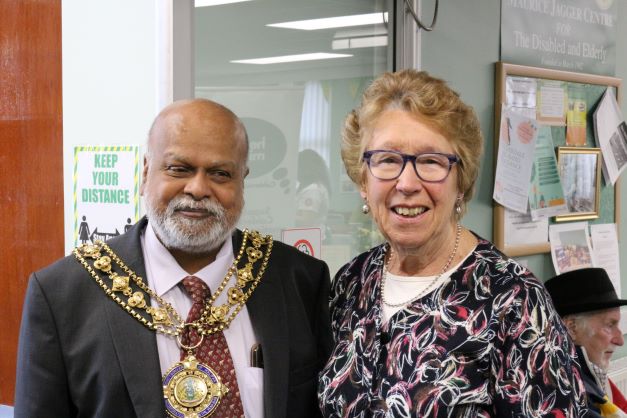 40th ANNIVERSARY GROUP OPEN DAY:
The Open Day was held on Saturday 9th April 2022 the Mayor of Calderdale
Clr Chirs Pillai who opened the event was welcomed by Margaret Mattingly Chair of the Maurice Jagger Centre.
Many of the groups using our centre had displays highlighting what they could offer including samples of traditional German larger and cake from the Calderdale German Circle and wine tasting from Halifax Wine Circle, literature, visual aids and handouts. Complimentary Tea/Coffee and Cakes were on offer making it a very enjoyable day.
***************************************************
CALDER FAMILY HISTORY GROUP
Hybrid Meeting – June 2022
Talk: Halifax General Cemetery
Speaker: Stuart Wilkinson
Date: 23rd June 2022 @ 07.30pm
Admission: £1.00 (Members Free)
The Halifax General Cemetery, Lister Lane, was opened in 1841 as a non-denominational commercial enterprise in answer to the much-needed demand for burial space outside the overcrowded churchyards of the town. Its memorials provide an index of many people who shaped the development of Halifax during its period of spectacular growth in the 19th century, a period which defined the way the town still looks today.
As a trustee of The Friends of Lister Lane Cemetery and CFHS Committee Member, Stuart will explain how the cemetery was initially financed and structured, where and how it was subsequently built and how, in common with many Victorian cemeteries, it was later abandoned and gradually returned to the wild.
The talk will also touch upon some of the prominent people interred in the cemetery, their memorials and other interesting stories associated with the Grade II listed cemetery.
On a more positive note, Stuart will outline how since 2000 the "Friends Group" has been caring for the cemetery and recovering at least some of its former splendour.
For more information, visit Calderdale Family History Society
*********************************************************
Calderdale German Circle May Meeting – Shabanah Steps in and Saves the Day!
The Calderdale German Group held their May face-to-face meeting this week at the Maurice Jagger Centre. After the scheduled speaker had to cancel at the last minute for health, Shabanah from the Huddersfield German Group volunteered to give her presentation on "Trummerliteratur," a literary movement which began shortly after World War II in Germany and lasted until about 1950. It is primarily concerned with the fate of former soldiers and POWs returning to Germany, who must stand both before the rubble of their homeland and their possessions as well as before the rubble of their ideals. The genre is characterised by simple, direct language, and a restriction of space, narrated time, and characters.
Shabanah had prepared an excellent presentation which she described with great passion and expertise to her live audience and those joining via Zoom. Shabanah guided us through the background stories of some of the key writers – Heinrich Boll, Wolfdietrich Schnurre and Wolfgang Borchert.
This was followed by Calderdale German Circle Secretary, Kirstin Charlesworth, reciting of one of Borchert's best known stories, "Das Brot" (The Bread) "Das Brot" is the story of a husband and wife and a slice of bread in the strict rationing era of Germany in 1946. The discussion which followed brought up several interesting comments and thoughts on the meaning of the story in "Das Brot."
The Trummerliteratur" is perhaps not a well-known subject but it was brought to life by Shabanah provoking a great deal of thought.
The Calderdale German Circle next face-to-face meeting at the Maurice Jagger Centre is on Wednesday 8th June with a 7pm for 7.30pm start. Everyone is welcome!
*********************************************************