CALDER FAMILY HISTORY GROUP
Hybrid Meeting – August 2022
Talk: Cruel Lives: some West Yorkshire Epidemics
Speaker: John Brooke (Live)
Date: 25th August 2022 @ 07.30pm
Admission: £1.00 (Members Free)
The last two years have taught us that, even in the 21st century and with the benefit of medical science, epidemics can still have a devastating impact on individuals, communities and, in the case of Covid, be of global proportions.
Consider what it must have been like in earlier times for those subjected to desperately inadequate living conditions, little or no medical care or lived in communities where disease found a home and was unremittingly cruel.
John explores a number of historical epidemics that occurred specifically in West Yorkshire and the often devastating impact they had on local communities.
For more information, visit Calderdale Family History Society
Calderdale German Circle June Meeting –
2021/22 Season Finale
The Calderdale German Circle brought down the curtain on their 2021/22 season, and their first at the splendid Maurice Jagger Centre, in appropriate style with stories of summer holidays from Circle members John Robertshaw and Peter Smith,
John took his audience back almost 60 years to his summer holiday of 1964 when he travelled for the first time across to Germany to take part in in a working holiday, helping to restore the famous communal spiritual centre established by the Moravian Unity (an early form of Protestantism) in Herrnhaag in 1738.

John travelled by train from Halifax down to London where he met up with the English group of volunteers as they set out on their over night train and ferry journey to Herrnhaag via Ostende, Cologne and Frankfurt. A journey which took him 29 hours!
John explained how the daily routine of breakfast, work, second breakfast around 10am, second work period and lunch unfolded and desribed some of the work task such as digging a lengthy service trench. But it was the people whom John remembered with some real fondness as they came from different countries but came together as a team to progress the renovation of the two remaining original buildings, the Schwesternhaus and the Grafhaus,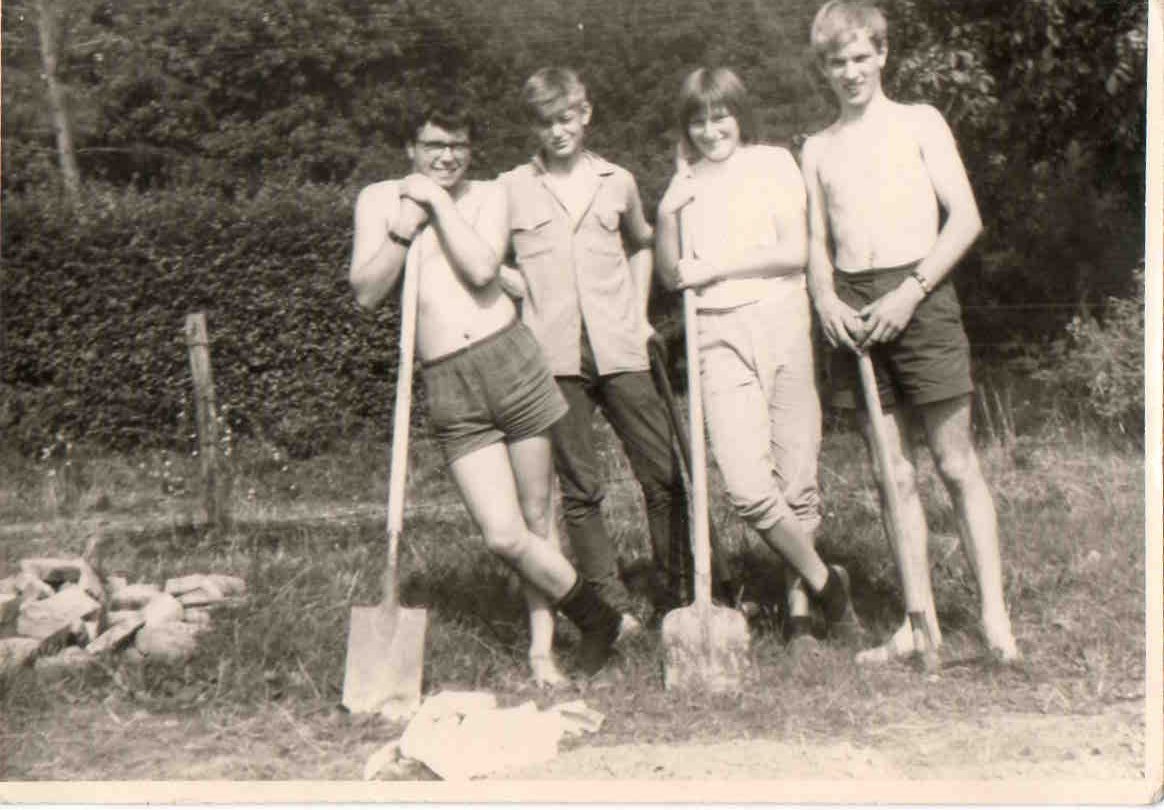 Peter decided to look at a number of memorable summer holidays from his teenage years back in the 1950's. He began by explaining his outfit which comprised an original Bavarian hat and a sweater of Spanish design and clolour knitted for him by his Mother some 70 years ago!
Family holidays in Brittany – Peter's very first in a foreign country – in Italy , in San Sabastian and Peter's first holiday in Germany were described in Peter's easy and personal style: and of course delivered in his excellent German. In Brittany not only experienced an old Mercedes bus which only departed when full but also was presented with the opportunity to use his newly learnt French language skills.
The family holidays were by train as his Father was with the Railway and had free family tickets in Francw which even allowed First Class travel. In San Sebastian in the Basque country Peter spent 3 weeks facing the heat fof the Spanish climate for the first time and even visiting a Bull fight!
Finally making a visit to Germany, Peter used an agency called "En Famille" to arrange the holiday stay with a family in Freudenstadt. His view of Germans being very organised was somewhat changed by his disorganised hostess who on occasions asked Peter to go to buy eggs as they sat down to breakfast!
Both speakers were officially thanked for their fascinating stories and received the Circle's traditional homemade jam.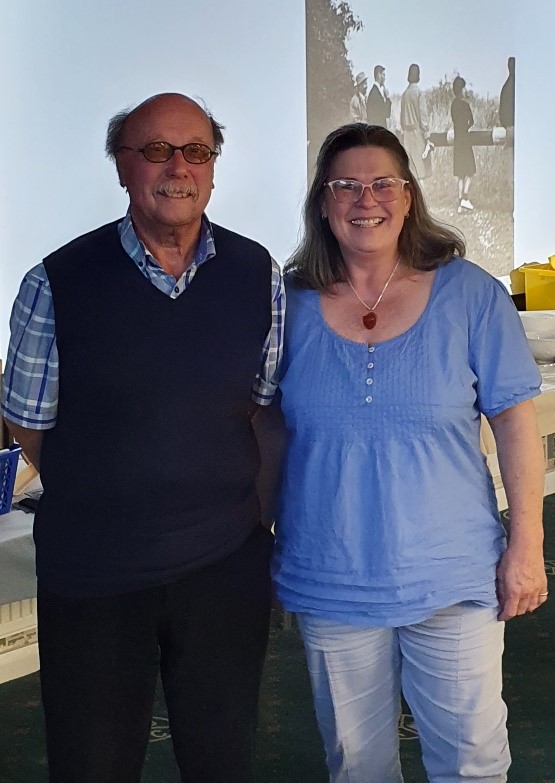 The Calderdale German Circle now has a summer break but will be back at the Maurice Jagger Centre in September when the Circle reverts to two monthly meetings. The regular face-to-face meetings will be on the 2nd Wednesday and 4th Monday of each month. The meetings will remain 7pm for 7.30 pm start.