Introduction
The exchange between the city of Aachen and Halifax dates back to 1949 and came into being on the initiative of the British Military government.
Since that time an exchange has taken place each year either to Aachen from Halifax or to Halifax from Aachen. The exchange has always operated on an alternative year and a home to home basis. We believe that this is the best way to get to know a country and its people.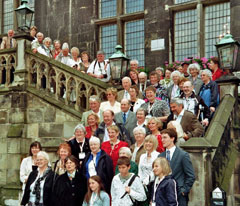 As a result of these exchanges, numerous friendships have been formed, some of which started with the first exchange in 1949 and they are still continuing. It is one thing to travel abroad and have an English speaking guide, staying in hotels where English is spoken and where English meals are served, but it is another and far more exciting experience to stay in a home where the language is not easily understood, the customs are quite different and where the food is not the traditional English food. This makes the holiday really enjoyable and provides the opportunity to realise that folks living abroad are very much the same as we are.
It is a very useful, practical contribution towards reaching a better understanding between peoples of the European Community.
Halifax has been legally twinned with Aachen in Westphalia (D) since 14 November 1979.
Our Aims
The purpose of the Society is to promote and maintain friendship between Halifax and Aachen by fostering exchanges, links and projects to examine issues of mutual interest.
This means developing links between social, cultural, sporting and business organizations and arranging Exchange Visits between ordinary families and members of local organizations. Anyone interested in maintaining the long-standing links between Halifax and Aachen can apply to join and take part in exchanges.
For further information please go the Aachen website. http://www.halifaxaachensociety.co.uk